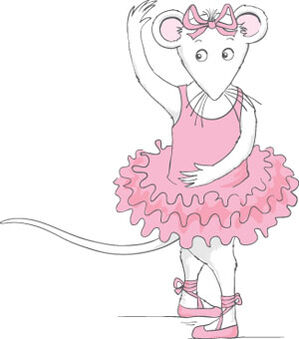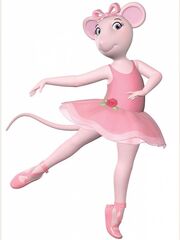 Angelina Jeanette Mouseling
AKA
Angelina Ballerina
is the adorable, sweet and very beautiful main protagonist who loves to dance and ballet and dreams of becoming a famous ballerina. She has grown up and moved away from
Chipping Cheddar
 to Mouse City. She has purple eyes and white-pinkish fur. She often wears a pink leotard, pink tutu, with a red rose on it, pink hair bow, and pink ballet slippers. Angelina loves all of her friends, and may have a crush on Marco. She also loves sweets, especially holiday sweets. Voiced by
Finty Williams
 (
Charlotte Spencer
in
Angelina Ballerina: The Next Steps
).
Personality
Angelina has a soft English-accented voice. Her catchphrase is "Absolutely-Positively!" Despite her positive attributes, Angelina is something of a drama queen, and has had several crying tantrums throughout the series. However, she puts these aside in crises where the interest of her friends is concerned and comes to their aid, even occasionally saving the lives of those in mortal danger. For example, she briefly put aside her rivalry with the Pinkpaws twins when she saw them struggling to stay afloat in a raging stream, giving up her chance to win a tandem race to save them from drowning.
Relationships
Family
Teachers
Miss Lilly (Angelina's original ballet teacher)
Ms. Mimi (Angelina's teacher at Camembert Academy)
Friends
Romance
Enemies
Penelope Pinkpaws
Priscilla Pinkpaws
Sammy Watts (sometimes)
Trivia
She wore a vest in season two for censorship reasons.
Both her voice actor and Mr. Ivor Operatski's voice actor, Derek Jacobi, have had roles in Doctor Who.
Gallery
Angelina Ballerina (Original Series)
Angelina Ballerina: The Next Steps